Convert AIFF to MP3 with High-Quality Output on Windows/Mac
When you download AIFF music from iTunes but find it can't be played on your mobile, the best way is to convert AIFF to MP3. Although AIFF files are lossless and of higher quality than MP3 files, they are not as widely used or compatible with devices and platforms as the MP3 format. Thus, AIFF files can't be played on your mobile and computers through the default audio players. Moreover, MP3 has a smaller file size than AIFF. If that is the case, you can also convert AIFF to MP3 format to save a lot of audio files on your device without thinking of your storage space. And to make it easier for you, this article compiled the most reliable and easy techniques to assist you on how to convert AIFF to MP3 format.
Part 1: The Ultimate Way to Convert AIFF to MP3 on Windows/Mac
Converting AIFF to MP3 is quite stressful, especially when you want to keep high quality of the audio files. Good thing there is a powerful and most trusted Video Converter that can help you regarding your problem. Though this tool is one of the leading converters, it is easy to use and beginner friendly. So what are you waiting for? Download this video converter now and quickly convert your AIFF files to MP3 format. With just a few clicks, you can effortlessly enjoy listening to your all-time favorite songs. Please follow the given guidelines below.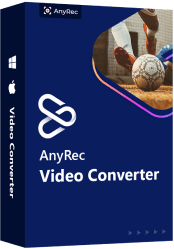 The Ultimate AIFF to MP3 Converter on Windows and Mac:
Allows you to convert AIFF to MP3 or any audio formats with high compatibility.
Conversion is simple and quick, with speed up to 30 times faster.
Allows you to batch convert two or more audio with no file size limit.
It has easy-to-use parameter options for customizing your audio output, such as audio bitrate, sample rate, and channel to keep a high quality.
Steps to Follow:
Step 1.Open the Video Converter on your Device
On your device, download and run AIFF to MP3 Converter. After successfully launching the app, you may begin adding your files to it right away. To start, simply click the Add Files button, or you can drag your files directly to the app's interface.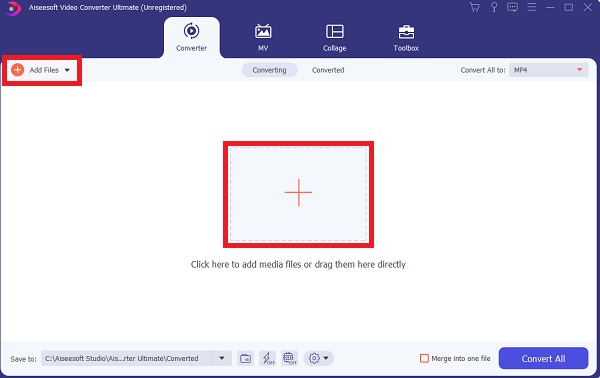 Step 2.Decide on the Format you Want to Use
After you have added the files, you will be able to select your preferred audio format. Click the Format icon on the right side of the program. Then choose the Audio option. After that, the tool will present you with various audio formats from which you can select the MP3 format.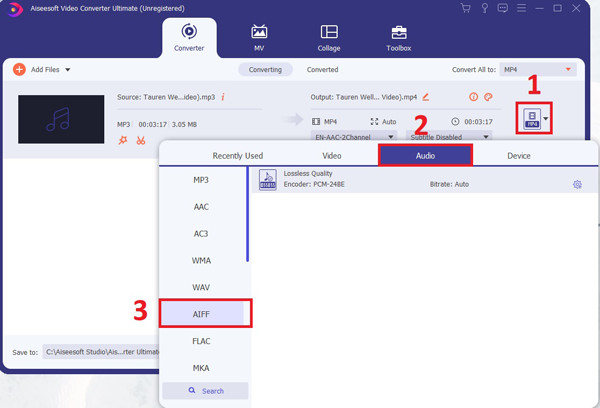 Step 3.Adjust the Parameters
Click the Gear icon on the right side of the programs' interface to customize the profile to change the detailed settings. The pop-up window's settings can be altered at any time. You can modify the encoder, sample rate, channel, and bitrate to maintain excellent audio quality.

Step 4.Convert your Audio
Finally, you can convert your MP3 files to AIFF with just a few clicks. Click the Save To option to select a place for your file. After that, click the Convert All option to begin converting and saving your files to your device.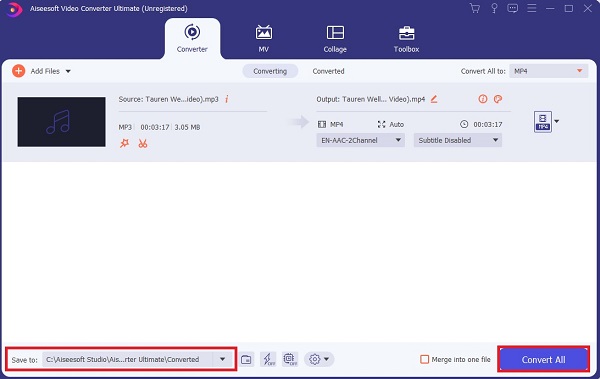 Part 2: How to Convert AIFF to MP3 Files on Mac through iTunes
Since AIFF files are the default file format for Mac, you can convert AIFF files to MP3 using iTunes directly. iTunes is a versatile media transfer that also functions as a media converter and player. Apple created this media player to serve as their default music library and player for all iOS and Mac programs. However, even though it has converting capabilities, it only supports a limited number of formats compared to professional converters. Here are the detailed steps below:
Step 1.Open iTunes on your device. After that, you may click the Edit icon. Then among the list, choose the Preferences icon.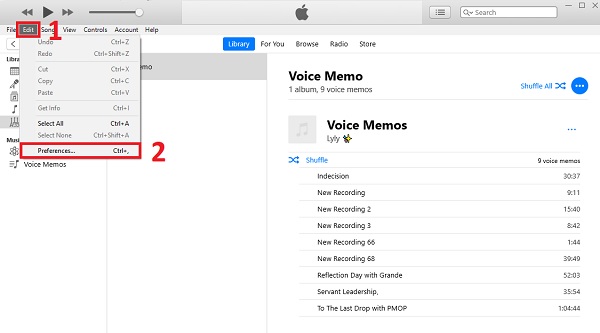 Step 2.Next, on the General section, tick the Import Settings button. Then another window will pop up on your screen. Change the format into MP3 encoder, then the Settings to whatever quality you want. After deciding, you may click the OK button.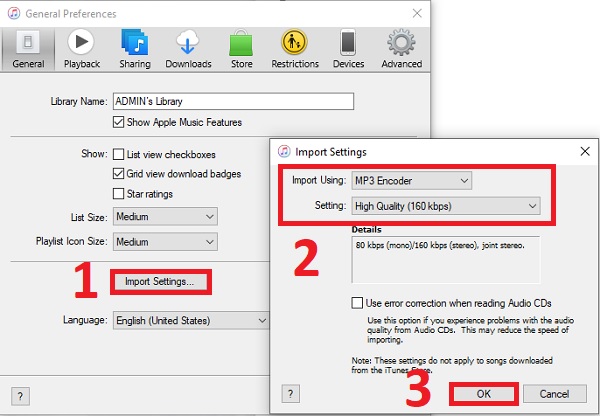 Step 3.Finally, drag your files to iTunes and tick it. After that, go to the File section. Then among the list, select the Convert button and click the Create MP3 Version to start converting your AIFF to MP3 format.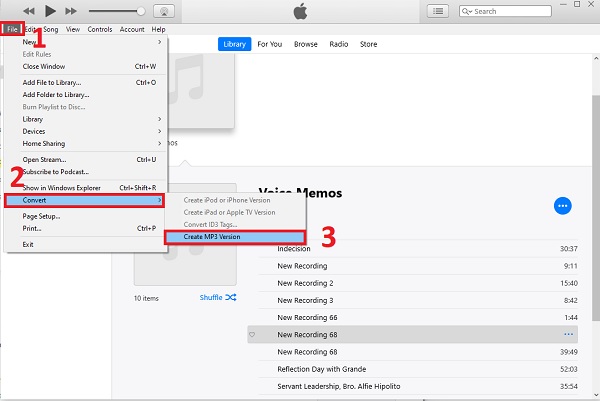 Part 3: Three Efficient Ways to Convert AIFF to MP3 Online for Free
Apart from the video converters above, this article will also provide you with three effective video converters that can help you convert AIFF to MP3 file format. Please continue reading to be familiar with the three video converters. Although you don't need to download any software, you should note that all AIFF to MP3 online converters have limitations to the file size.
1. Zamzar
Another online file format converter is Zamzar, which supports over 150 file types, including AIFF to MP3. You can also immediately convert a file by typing its URL or uploading the files and inputting your email address. Zamzar will give you an email with a link to your converted files that you may download.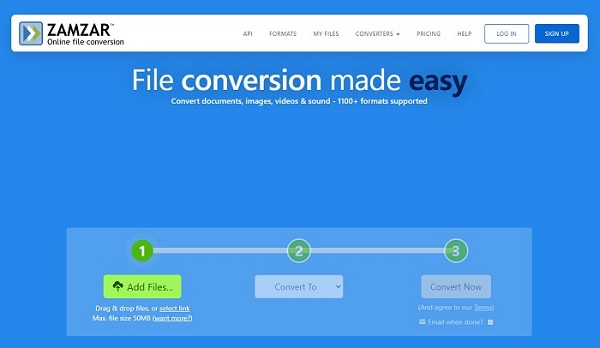 Step 1.Choose AIFF files from your device or type the AIFF file's URL into the online audio converter. You may also convert AIFF files by dragging and dropping them into the software.
Step 2.After that, click the Convert Files To button to select the format you want to convert to. You can convert AIFF files to MP3 format by selecting MP3 from the Music files menu.
Step 3.Finally, to convert your AIFF file to MP3 format, click the Convert button. You can utilize the MP3 files on MP3 players or other devices once you get them.
2. CoolUtils
CoolUtils converter can also help you in converting AIFF files to MP3 format. Moreover, it can work with AIFF files in real-time or in batches. Simply follow the steps below to understand more about the comprehensive process of converting AIFF to MP3.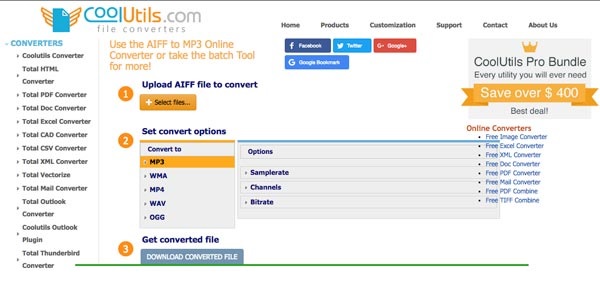 Step 1.Upload the AIFF files you want to convert to the software by clicking the +Select files button.From the Convert To menu, select MP3 as the output format, then you can modify the Set Convert option for Sample rate, Channels, and Bitrate.
Step 2.After that, you can convert AIFF files to MP3 by clicking the Download Converted File button.
3. Convertio
Convertio is an online tool that allows you to convert AIFF to MP3, M4A to MP3, etc. Its website has over 100 million files converted with a total size of around 1500 TB. Convertio can handle video, audio, document, and image formats, as well as their conversion.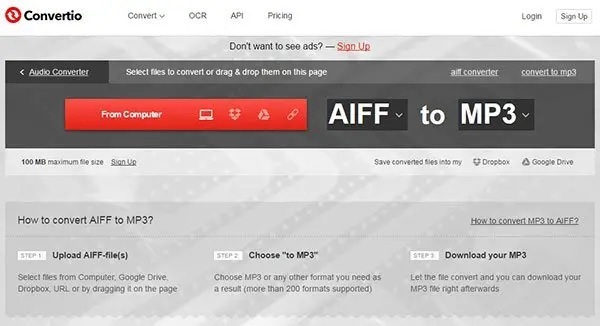 Step 1.Drag AIFF files from your PC, Google Drive, Dropbox, or a URL to the page you want to convert.
Step 2.Set the output format to MP3. Of fact, there are over 200 formats that you can use. You have the option of converting your file to any other format.
Step 3.Once the conversion is complete, you may save the MP3 file to your PC or cloud services like Dropbox or Google Drive.
Part 4: FAQs of Transferring AIFF to MP3 Audio Files
1. What is the difference between AIFF and MP3?

MP3 is superior in terms of compatibility and storage space. It would also take up less memory to save it because it is compressed. On the other hand, AIFF is better for audio quality because it is lossless and uncompressed. Its size, however, would be substantially more extensive because of the uncompression issue.

2. Is MP3 compatible with Apple?

Absolutely yes. Since MP3 are supported by almost all devices and operating systems, it works smoothly on Apple devices. So, you can take relax and convert AIFF to MP3 formats.

3. What are the distinctions between the formats AIF, AIFF, and AIFC?

AIF files are often used to hold audio files on CDs, DVDs, and Blu-ray discs, and AIFF files are used to store personal and sound data. Hence, they are large files. However, AIFC is a compressed variant of AIFF. It is the most often utilized format by media players to play high-quality.aiff files.
Conclusion
To conclude, the above are 5 reliable methods on how to convert AIFF to MP3. In line with that, converting AIFF to MP3 can help you play AIFF music smoothly on any devices and save more storage space to download a lot of songs on your device. Don't hesitate to get in touch with us and share your ideas with the world.
Related Article